Acrylic Pour (Winter Garden)
Class starts on: Wednesday, March 30, 2022
Duration: 6 Weeks
Wednesdays | 10:00 am - 01:00 pm
Location: Jessie Brock Community Center
Fee: $295
ENROLL NOW
The magical art of Flow or Pour Art is pure fun! We will be experimenting with vibrant and bold colors of acrylic paint, on a variety of mediums, materials and surfaces. You can't go wrong! Try your hand at a dirty pour, flip cup, or puddle pour, and put these fundamental techniques into action, creating one-of-a-kind paintings that will mesmerize your friends and family!
Required Supplies
Flow Art Class Supply List Acrylic Paints: 3 Primary (Red, Yellow, Blue), 3 Secondaries (Orange, Green, Violet) White and Black, any other colors that you may want to use. Jumbo Popsicle Sticks (Michael's, Hobby Lobby) 6oz. and 10 oz. Clear Plastic Cups (20 to 30) Larger Clear Plastic Cups (10 to 15) Disposable Gloves – Small package Floetrol Clear Latex Paint Additive – Quart (Lowe's, Home Depot, Ace) Primed Canvasses: 8x8,12x12, 14x18, 16x20, 24x24 or any size you may want to try. Plastic Push Pins – Small Container Roll of Parchment Paper Masking or painters Tape Small Hammer Crème Brulee Torch (Optional) (Butane Fuel, if you get the Torch)
Special Notes
This class takes place at the Jessie Brock Community Center, 310 N. Dillard St Winter Garden FL 34787 register through Crealde 407-671-1886 or crealde.org
Instructor
John Connell
John Connell is a Winter Garden based Abstract and Flow artist. He holds a BA in Landscape Architecture/Planning from the University of Florida, where he studied design, mechanical drawing and model making. He has worked in the private sector for architectural firms in Orlando and Atlanta. After retiring in 2016 as Landscape Architect of Orange County Parks and Recreation, he has further pursued his passion for the arts full-time with Flow Art and Abstract Painting seminars and classes in The Netherlands, Winter Park and Orlando.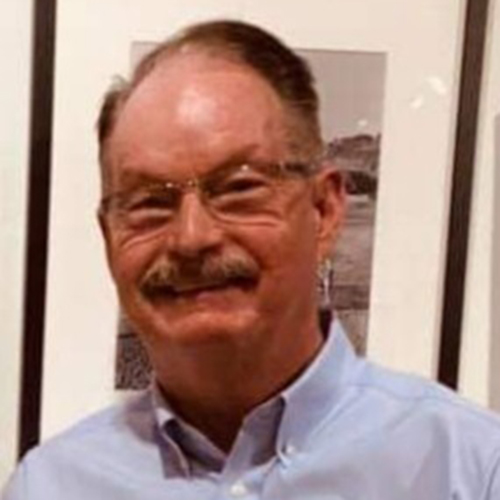 Instructor Bio