Beginning Acrylics (Tuesday)
Tuesday, January 23, 2018
07:00 pm - 09:00 pm
Instructor: David Hunter
Location: Main Campus
Fee: $240
ENROLL NOW
Explore the methods, materials, and tools involved with acrylic painting. Learn techniques used to produce a finished acrylic painting, from rough sketch to final finishing touches, including the use of various brushes, palette knives, canvases, clay boards and final coating to protect the finished image. Supplies will be discussed at the first class.
Required Supplies
Supplies will be discussed the first night of class. Students may refer to the list below, but do not buy any supplies until the instructor has reviewed the list in class. Paints Basic colors • Napthol Crimson or Cadmium Red Medium* • Cadmium Yellow* • Either Primary Blue or Thalo Blue • Mars Black • Titanium White *Cadmium-based inks are toxic Helpful colors • Burnt Umber • Burnt Sienna • Yellow Ochre • Hookers Green • Raw Sienna Other • Airbrush medium for making tonal grounds • Painting Surfaces – Its helpful to start relatively small using standard sizes (8" X 10", 11" X 14", 16" X 20") which makes readily-available frames easy to find and use. • Stretched canvas – double or triple primed • Standard gallery wrapped – no framing necessary o Clayboard* o Gessoed tempered Masonite* o Canvas tablet Paper • *Standard, ready-made frames can have a shallow depth (rabbet) so thinner painting surfaces are easily accommodated by these frames. Brushes (both flat and round of each) • Stiff bristle – numbers vary according to the manufacturer • Soft bristle Palettes • Wood or Glass (glass preferred) • Disposable (tablet) • Kitchen storage container with tight-fitting lid lined in the bottom with foam and • Parchment paper placed on top of the foam Tools • Palette knife – metal blades: small, medium and large Other • Gesso and fine-grit sandpaper or hand-held sanding block • Extender – for lengthening drying time • Watercolor pencils • 2 Plastic water containers (clean water and washing brushes) • Rags or paper towels (paper towels preferred) • White or graphite transfer paper • Varnishes for finished paintings • Masking tape • Small knife or razor blade • Eye dropper • Water spray bottle with fine spray • Apron – only if you think you'll need it • Hair dryer • Easel o Table-top model for smaller to medium paintings o Floor model for medium to large paintings
Special Notes
None
Instructor
David Hunter
David Hunter, Senior Faculty in Painting & Drawing, an accomplished and awarded printmaker, says he inherited his father's talent for artwork but earned his bachelor's and master's degrees in zoology at the University of South Florida in Tampa. He worked in research and taught middle-school science, before returning to art in his spare time and entering his first show.? In 1978, he dedicated himself as a full-time artist. Hunter teaches printmaking and acrylic painting to adults and youth at Crealdé School of Art, having joined the faculty in 2007. He was instrumental in forming the Florida Printmakers society in 1986, becoming its first president. Hunter's work appears in galleries and collections in the United States and England, and he participates in art shows and competitions. Hunter is a member of the Miniature Art Society of Florida, the Miniature Painter, Sculptors & Gravers Society of Washington, D.C. and a signature member of the Miniature Artists of America.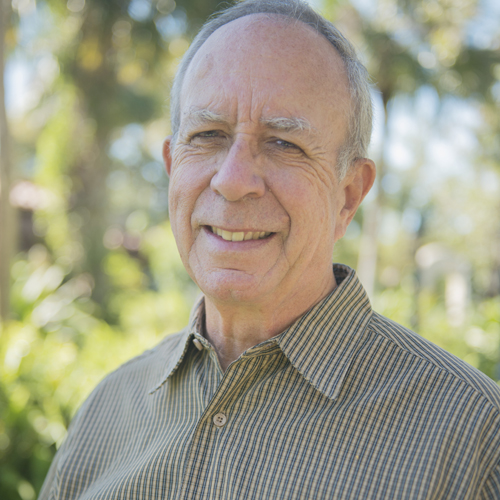 Instructor Bio