Intensive Expressive Still Life and Floral Painting
Class starts on: Thursday, August 18, 2022
Duration: 3 Weeks
Thursdays | 09:30 am - 01:30 pm
Location: Main Campus
Fee: $240
ENROLL NOW
This class will focus on setting up strong shadow and light, accurate value and color relationships and how to create atmosphere and depth. The class will begin with a demo and discussion on composing a powerful focus, followed by one on one instruction. Students are encouraged to build from small or miniature pieces produced the first day.
Required Supplies
BRUSHES One large 1 to 2 inch inexpensive flat brush for color washes and quick background work. Flats or Filberts (bristle): #3, 4, 5, 6, 8, 10, (Several in each size, more of the 4, 5, 6 sizes) Example: Robert Simmons brand for simple hog bristle which are all you need, Rosmary and Co #279 for soft mongoose or Langnickel #5590 for sable. THESE ARE JUST SUGGESTIONS YOU ARE WELCOME TO BRING WHATEVER YOU LIKE, however make sure they are not all small in width and make sure bristles are pliable and not stiff with old paint or badly frayed PALETTE KNIFE PAINTS PLEASE NO STUDENT GRADE PAINT OR HUES (I use Rembrandt brand or Windsor and Newton Artists' Oil Colour, but bring whatever you like) Cadmium Yellow Deep or Cadmium Orange Cadmium Yellow Light Cadmium Red Light or Windsor and Newton Artists' Oil Colour in Cadmium Red Transparent Oxide Red or burnt sienna French Ultramarine Blue Deep Cerulean Blue Titanium White or whichever white you prefer Alizarin Crimson or Rose Madder Deep Burnt Umber Cobalt Blue (optional) Ivory Black (0ptional) Other options that I use as needed or dictated by the subject (not on palette for every day): Viridian Green Pthalo Blue Raw Umber MEDIUM SUGGESTION Neo Megilp by Gamblin, a modern replacement for Maroger. Bring whatever you prefer, something with nice viscosity, not too sticky and not a drying accelerator Odorless Turpenoid ONLY PALETTE SUGGESTION Plexiglass or glass gives the nicest slick surface. Backed with some medium valued material. Or whatever palette you prefer. I don't suggest anything white. It is too hard to judge values on it. PAPER TOWELS PAINTING SURFACE Linen or Cotton Canvas or masonite either oil primed or treated with several coats of gesso, SIZES: bring a RANGE of sizes from 9 to 12, 11 x 14, 12 x 16, up to 16 x 20 or 18 x 24 at the largest. I find it best to bring in a variety of sizes so you can choose one the best fits your set up or subject.
Special Notes
Prerequisite: some drawing and painting experience required. 3-week class
Instructor
Stacy Barter
Stacy Barter's Oil Paintings depict her intense fascination with light and atmosphere. She is constantly striving to capture depth and dimension in her oil paintings, along with accuracy and light. Working from life, whether it's outside painting a landscape, or in studio, painting fresh flowers or working with a model is her true passion. In her 25 years as a full-time professional artist, Stacy has won many top awards in some of the most important organizations and exhibitions in the country and is part of entertainment/celebrity and museum collections.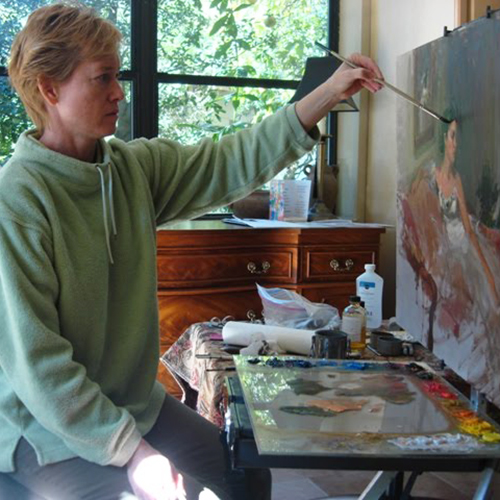 Instructor Bio