Author:
Talisee Carpenter
Take Crealdé Classes At The Jessie Brock Community Center
Crealdé will be offering Fall I and Fall II classes at the Jessie Brock Community Center! Please see these offerings in our list of available courses. And don't forget – Winter Garden residents receive Crealdé Member Discounts.
Click here to view a PDF. For more information, call the main office at 407-617-1886.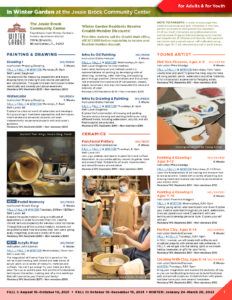 You can now enjoy the unique Crealdé experience from the comfort of your own home. These new virtual learning experiences are designed with the same commitment to quality and personal attention that are the hallmark of a Crealdé class.
If you are interested in a private, one-on-one learning experience, consider this opportunity to register and study with a Crealdé professional artist/instructor.