Digital Printing Lab & Finishing Area
The digital printing lab features an Epson archival, pigmented ink printer and one computer workstation with Photoshop, plus two workstations equipped for laptops. Instructions are available for logging into the available workstation and wireless. The digital area is completed with an Epson scanner that can be used by both digital and film students and comes with attachments for digitizing your film negatives for safekeeping or your post-processing needs. The finishing area has a large matt cutter and space to frame photographs. Bring printing paper, mat boards and frames, as needed.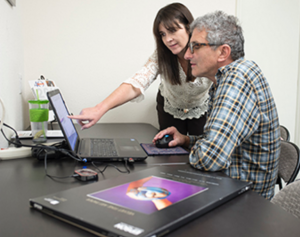 The lab is available at no charge for students who have completed the 1 ½ hour Digital Print Lab workshop. Crealdé membership is required.
Digital Printing and Finishing Lab Schedule Winter/Spring 2018
Monday, 9 AM – 4 PM, no monitor available
Tuesday, 9 AM – 4 PM, no monitor available
Wednesday, 9 AM – 4 PM, no monitor available
Wednesday,  6:30-9 PM, monitored
Friday, 9 AM – 1 PM, no monitor available
Thursday, 9 AM – 4 PM, no monitor available
Friday, 9 AM – 1 PM, no monitor available
Saturday, 1 – 5 PM, monitored