Exploring Abstract Painting AM
Class starts on: Tuesday, August 16, 2022
Duration: 8 Weeks
Tuesdays | 10:00 am - 12:00 pm
Location: Main Campus
Fee: $280
ENROLL NOW
This inspiring class offers a fundamental exploration into the beauty of abstract painting. Instruction concentrates on composition, techniques, form, texture, and color. Students will develop their own artistic vision while referencing the works of contemporary painters. Be ready to paint outside the lines. Skill level: All.
Required Supplies
Exploring Abstract Supply List ACRYLIC PAINTS: 3 PRIMARIES (RED, YELLOW, BLUE), THE 3 SECONDARIES (ORANGE, GREEN, VIOLET),& WHITE AND BLACK ACRYLIC PAINTS. WHITE GESSO GLOSS MEDIUM CHARCOAL or OIL PASTELS RECOMMENDED COLORS: (but not mandatory. Bring any colors that you have) TITANIUM WHITE, IVORY BLACK, CADMIUM RED LIGHT, COBALT BLUE, VIOLET, CADMIUM ORANGE, AND LIGHT GREEN. BRUSHES: A FEW 2" or LARGER, FLAT BRUSHES. ROUND & ASSORTED ARE OK. PLASTIC PALETTE OR MIXING TRAY PAPER PLATES ALSO MAKE NICE DISPOSABLE PALETTES) ABSORBENT COTTON RAGS PRIMED CANVASSES: 14x18, 16x20, 24x24 MAGAZINES WITH INTERESTING IMAGES. LOOK FOR INTERESTING TEXTURES, COLORS, AND PATTERNS. SUGGESTIONS ARE: BRIGHTLY COLORED AND/OR PATTERNED PAPERS, WALLPAPER SAMPLES, PHOTOGRAPHS, FABRIC SCRAPS, LACE. Happy Creating!!!
Special Notes
This class is ideal for the beginner to the more experienced painter.
Instructor
Patricia Byron
Senior Faculty | Painting & Drawing | Young Artist Program | Outreach Program
A caring and thoughtful art educator, Patricia Isabella Byron is an abstract painter and poet who was inspired by her years living in Turkey and Iran. She says she was compelled to paint and write about the natural beauty and historical sites, studying at the School of Persian Language & Culture at the University of Tehran, Iran. She continued her studies at Crealdé School of Art through the Fellowship and Studio Artist emerging artist programs. In 2006, she joined the faculty, teaching both adults and youth. Byron actively exhibits her work and teaches workshops at galleries and festivals, including the 2018 Epcot International Festival of the Arts.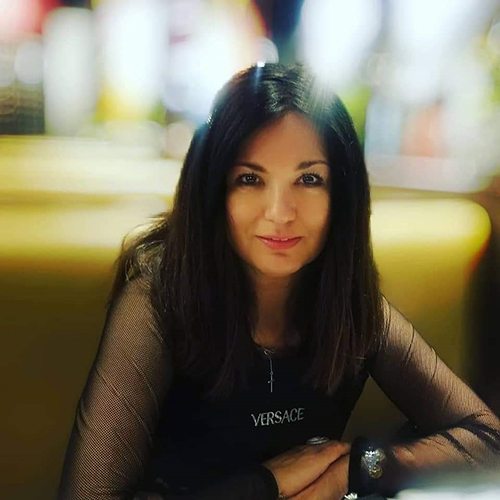 Instructor Bio