Metal Folding & Forming
Sunday, August 7, 2022 | 12:00 pm – 05:00 pm
Location: Main Campus
Fee: $150
ENROLL NOW
Explore metal folding and forming as a unique process for jewelry-making. Participants will learn to design and the precision techniques necessary to make a series of small-scale samples for sculptural jewelry. This course will include equipment safety, design, material preparation, design execution. Create dimensional forms out of flat copper sheets without molds or stamps. Note: this class is fairly physically intensive, and calls for nimble dexterity and significant manual strength. Skill level: All
Required Supplies
Materials provided. Tools available for use in studio. Students should bring earplugs.
Special Notes
Withdrawal deadline is one week prior to the start date of this workshop. This workshop is ideal for jewelers and metalsmiths of all levels of experience, but those with no experience are also welcome. At the end of the day, you will have created a rewarding copper piece to take home.
Instructor
Stefan Alexandres
Stefan Alexandres is a multi award winning jeweler and sculptor in addition to teaching Jewelry weekly classes at Crealde ´ School of Art since 2008.
From 1964 to 1972 he apprenticed in metal arts in the traditional ways of the old world, as guided through the organized guilds of Greece.
He received a United Arts of Central Florida individual artists award in 2007 and 2010, and Best of show award in Osceola Center for the Arts show 2009.
His work has been exhibited nationally and internationally in galleries and shows such as Arts On Douglas gallery, Creativity Contest Oggetti Torino Italy, and Beijing International Jewelry Exhibition. He has received a large number of corporate commissions and site installations.
His training is based on the Byzantine Art. He draws inspiration for his metalwork from history, mythology, folk tales and real life.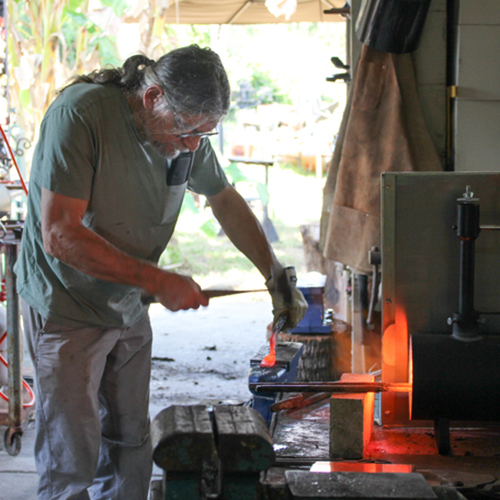 Instructor Bio