Painting & Drawing II -Winter Garden (ages 11-16)
Class starts on: Wednesday, August 17, 2022
Duration: 6 Weeks
Wednesdays | 03:30 pm - 05:00 pm
Location: Jessie Brock Community Center
Fee: $165
ENROLL NOW
**Class meets at Jesse Brock Community Center**
Calling young artists who love to paint and draw! Explore your creative potential through acrylic paint, watercolors, charcoal and pastels on canvas and paper. Experiment with painting and drawing techniques, composition and color theory. Say it with art!
Required Supplies
Supplies are provided.
Special Notes
This class is for students ages 11-16 Class is held at our teaching site in Winter Garden: Jessie Brock Community Center 310 N. Dillard Street, Winter Garden, 34787
Instructor
David Minichiello
In December of 2020, Dave Minichiello retired from Walt Disney Imagineering as an Executive Creative Director after a very successful over 41 year career with the Walt Disney Company. In his career span, Dave worked with his teams to design, art direct, and build many now classic Disney themed experiences and attractions around the world. Dave is an alumni of the prestigious Art Center College of Design in Pasadena, California, where he graduated with honors. Painting and drawing have always been a passion for Dave and he has continued to do both his whole life. Traveling all over the world both personally and for Disney project exploration he has always documented his journeys by doing "plein air," on location, painting and travel sketchbooks. Dave currently lives in Windermere Florida and now continues to paint professionally and teach.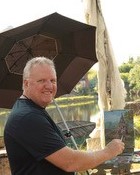 Instructor Bio