Don Sondag
Senior Faculty | Painting & Drawing
Email
Local artist Don Sondag grew up in Winter Park, and his lush paintings reveal his intimate knowledge of the land, water and architecture. He is active in the plein air community and has participated in the Winter Park Paint Out at the Albin Polasek Museum & Sculpture Gardens every year since it started in 2009, winning the Artists' Choice Award in 2016, given to the best body of work.
Sondag received his BFA from Rhode Island School of Design. He also has studied painting and portraiture at the National Academy of Design and Art Student League in New York City. In addition to painting commissioned portraits and landscapes from his space in the McRae Art Studios, he teaches portraiture and painting at Crealdé School of Art, where he joined the faculty in 1990. He also has taught at Seminole College, Walt Disney Imagineering and Walt Disney Feature Animation.
In addition to his portraits, landscapes and still lifes, Sondag is best known for his commissioned portraits of local community leaders. Commissions include educational and business leaders for Rollins College including venerated children's television host Fred Rogers, the University of Central Florida, Tupperware Corp., Seminole State College, the Dr. P. Phillips Foundation and Massey Services Inc. His paintings have been featured on the posters for the Winter Park Sidewalk Art Festival and Casa Feliz.
Personal Website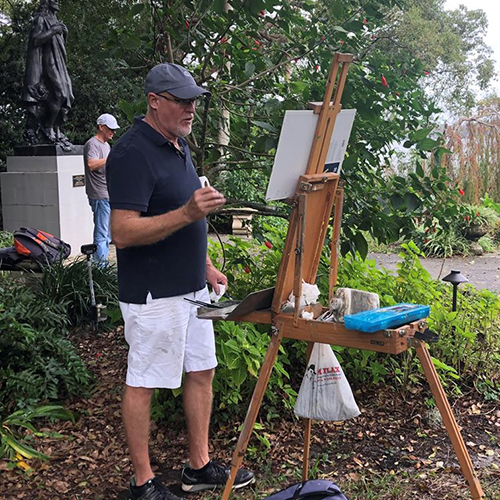 Selected Awards
2016, Artist's Choice Award, Winter Park Paint Out, Albin Polasek Museum & Sculpture Gardens, Winter Park, Florida
Permanent Collections
Rollins College, Winter Park, Florida
University of Central Florida, Orlando, Florida
Tupperware Corp., Orlando, Florida
Seminole State College, Sanford, Florida
The Dr. P. Phillips Foundation, Orlando, Florida
Massey Services, Orlando, Florida