Feb. 2, 2018 — May. 19, 2018
Honoring Two Winter Park Legends: The Paintings of Hugh McKean and Jeannette Genius McKean
Location: Alice and William Jenkins Gallery
Crealdé proudly presents a major educational exhibition of paintings created by Hugh McKean (1908-1995) and Jeannette Genius McKean (1909-1989) on loan from The Charles Hosmer Morse Museum of American Art in Winter Park.
The philanthropic work of the two local legends is well known and their Morse Museum is a permanent reminder of the couple's grand legacy, but this two-gallery exhibition of rarely displayed paintings curated by Barbara Tiffany reveals their more private accomplishments as formally trained artists.
*This project is supported by Orange County Government through the Arts & Cultural Affairs Program and the Edyth Bush Charitable Foundation.
Opening Reception Part 1
7-8:30 p.m. Friday, Feb. 2, in the Alice & William Jenkins Gallery. Brief presentation by Curator Barbara Tiffany at 7:45 p.m.
Opening Reception Part 2
 8-10 p.m. Friday, Feb. 2, at the Hannibal Square Heritage Center. Performance by the Chuck Archard Trio. Featuring a selection of Hugh McKean's paintings that capture the African-American community in Central Florida.
The McKeans were serious and accomplished artists who painted throughout the course of their lives. They produced strong bodies of work that reflect their training, their individuality, and their experiences of life in Central Florida. Though personal in expression, these paintings have appeal to a wide audience.
Crealdé's exhibition of 38 of their paintings illustrates the artistic response of these two fine artists as Winter Park was growing and changing, as well as their contribution to the vibrancy of Winter Park's arts and cultural scene at a pivotal time in its development. Many paintings are undated, but the earliest piece by Hugh is from 1923 and the latest known date is 1977. Jeannette's paintings range from the 1940s to the 1960s.
Barbara Tiffany, Curator of Exhibitions and Painting & Drawing Manager at Crealdé School of Art, made selections from the Morse Museum's archives that provide a "cohesive" display of their work.
"The two were obviously influenced by each other," she says. "They clearly had a respect and regard for each other's work. They spoke the same language."
It's often not clear at first glance which artist is behind the piece, she notes. It is easy, she says, to imagine the two of them sharing commentary on a work-in-progress, perhaps in Hugh's second-floor studio on Park Avenue.
"Even when looking at his portraits and her abstracts, there is still a clarity of color and design that they share, in addition to their obvious knowledge, passion and humor," says Tiffany.
As part of its mission to preserve culture through visual art, Crealdé has a long tradition of ensuring that important contributors to Winter Park's artistic heritage and culture are not forgotten. Hugh McKean and Jeannette Genius McKean were dedicated to the vision of a small town, rich with cultural amenities available to everyone.
"The McKeans' imprint is interwoven into Winter Park's cultural fabric, from the peacocks they raised that have become the city's iconic symbol to The Charles Hosmer Morse Museum of American Art that holds the world's most treasured repository of Tiffany works," says Peter Schreyer, Executive Director/CEO, Crealdé School of Art.
Schreyer notes that Hugh was known for his egalitarian belief in making art more accessible to people not typically inclined to seek it out. Hugh's approach parallels the founding mission of Crealdé School of Art by William Jenkins in 1975, and continues today with the school's motto that "Art Is for Everyone."
Crealdé is the perfect organization to produce an exhibition of the McKeans' work, says Dr. Laurence J. Ruggiero, Director of the Morse.
For more than 50 years, Hugh and Jeannette actively produced paintings and drawings here in their community in which they lived and which they loved," Dr. Ruggiero says. "Their work deserves to be remembered, and their example stands as an emblem for the profound and nourishing role art plays in the lives of all local artists and members of our community then and now."
The Hannibal Square Heritage Center will feature a special selection of Hugh McKean's paintings that capture African Americans in his community. McKean's interest in life in Central Florida and in the universality of human experience led him to include African Americans from his community in his art.
"In these moving paintings that touch on the life of African Americans in the 1930s and 1940s, you will immediately see his compassion and reverence for the subject," says Tiffany.
Reservations are being accepted to book guided tours of both galleries of this exceptional exhibition. Call 407.671.1886 to schedule a date.
Current Exhibitions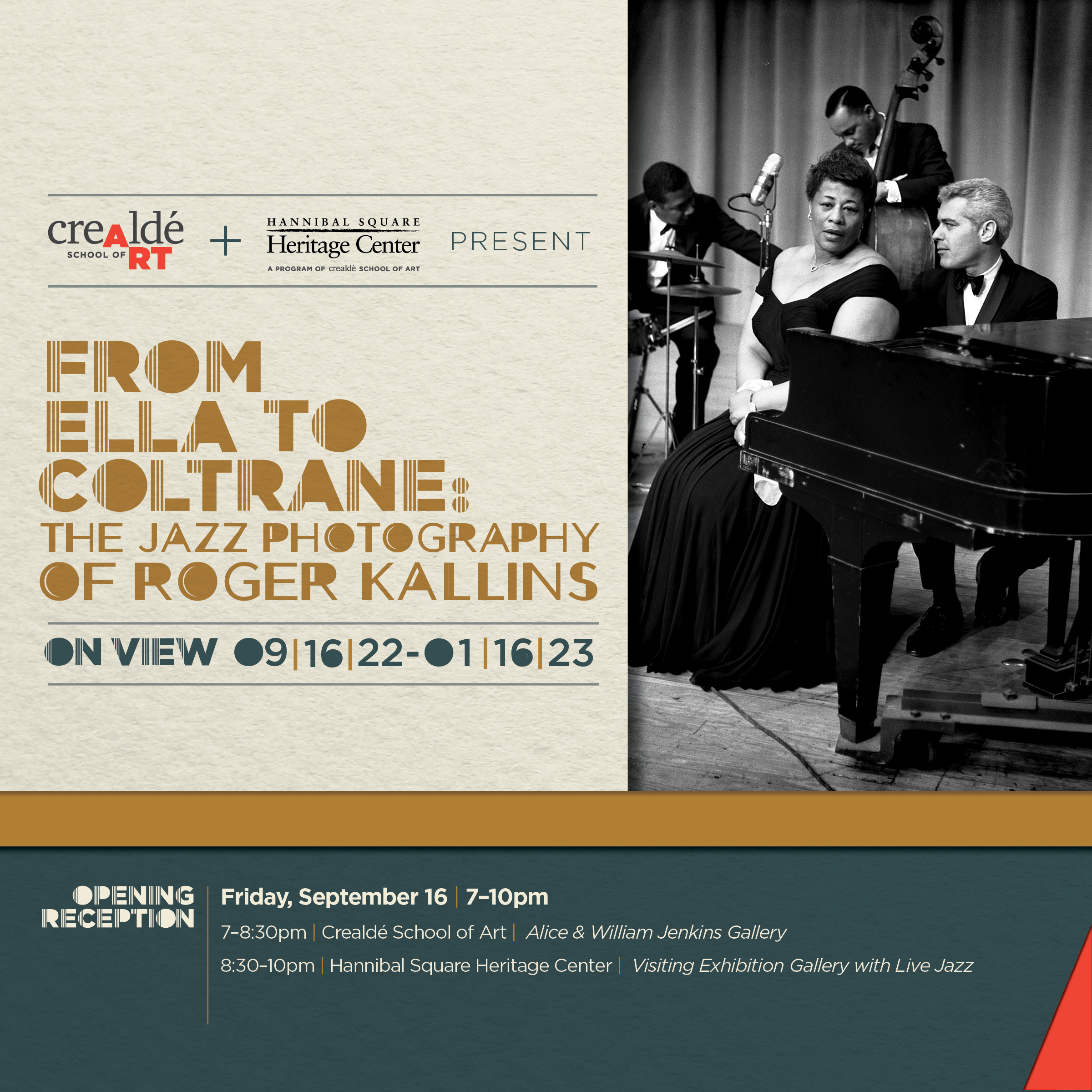 From Ella to Coltrane: The Jazz Photography of Roger Kallins
Sep. 16, 2022 — Jan. 16, 2023
Location: Alice and William Jenkins Gallery
https://youtu.be/bi3M1-A6A5M On View: September 16, 2022—January 16, 2023 Main Campus Alice & William Jenkins Gallery and Hannibal Square Heritage Center Visiting Exhibition Gallery Opening Reception: Friday, September 16 | 7–10pm