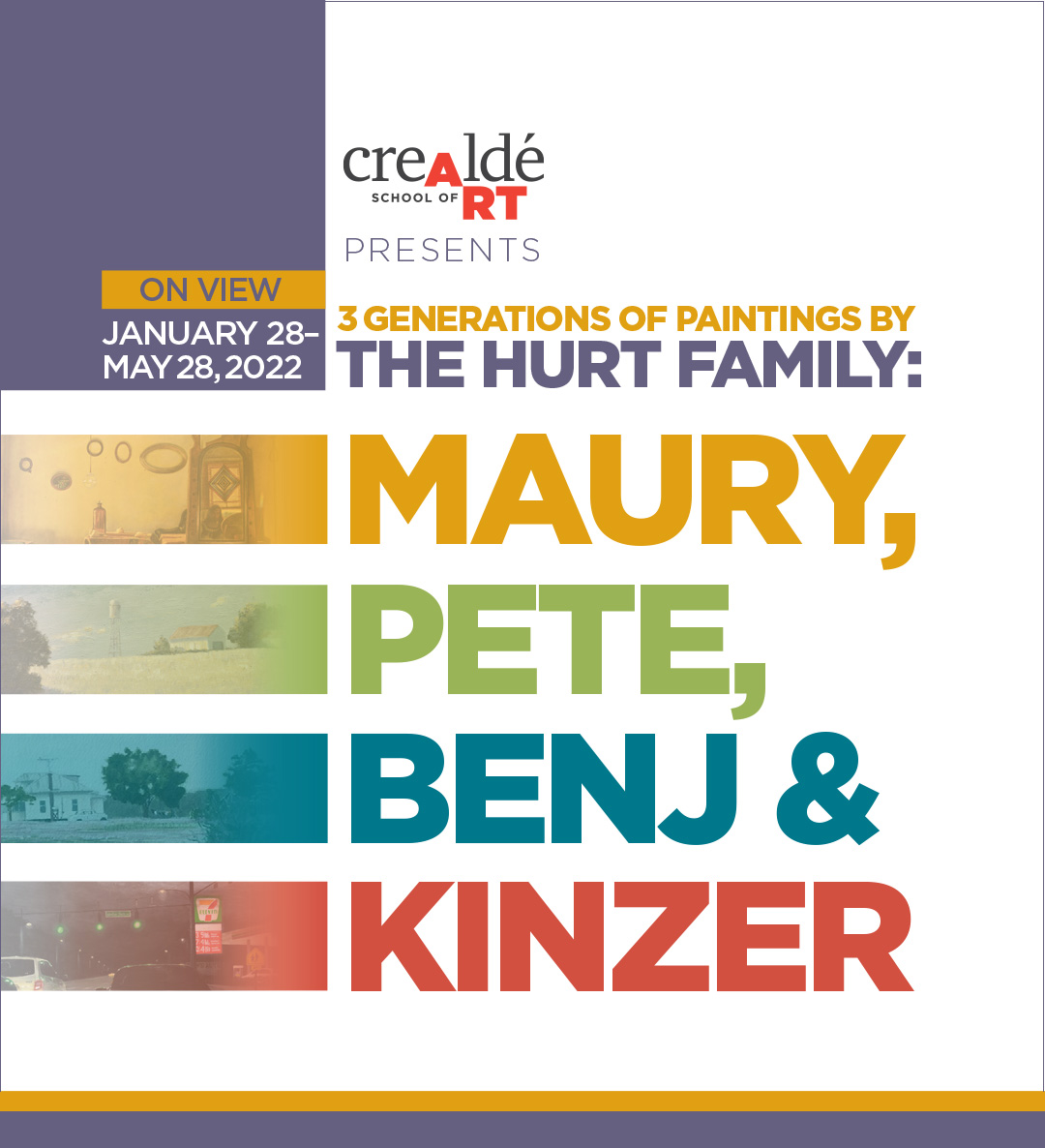 Three Generations of Hurt Family Painters: Maury, Pete, Benj and Kinzer
Jan. 28, 2022 — May. 28, 2022
Location: Alice and William Jenkins Gallery
Opening Reception: Friday, January 28, 7 – 9 pm
Gallery Talk: 8 pm
Alice and William Jenkins Gallery
This is the first time all four family members' works will be introduced together to an audience of new and old admirers and collectors. James "Maury" Hurt (1934 to 2013)—considered a legend in Central Florida—had a very lengthy career as a painter with solo exhibitions throughout the state, including the Cornell and Mennello Museums, Orlando Museum of Art, and Maitland Art Center, which he helped preserve when it was called the Andre Smith Research Center. His work is included in hundreds of private and corporate collections, and he also mentored dozens of artists, some of whom have gone on to have very successful careers of their own.
Maury's passion for painting inspired his brother William Kinzer "Pete" Hurt, Sr., (1935 to 2016), his son William Kinzer "Benj" Hurt, Jr. and his grandson, Kinzer Hurt. Maury studied art at the University of Florida, obtaining a fine arts degree, and within several years began making his living as a fine art painter. Pete, on the other hand, worked for 25 years in the business world before taking lessons from Maury. Five years later, he left the insurance business to pursue painting full time, which he was able to do for more than 20 years. Benj (William Kinzer Hurt, Jr.) began studying with Pete and Maury while in college and has enjoyed painting while maintaining his career in real estate. Kinzer, (William Kinzer Hurt III) genetically blessed, has had the discipline and talent to complete many works while finishing high school; winning the Student Division at the Maitland Rotary Art Festival in 2019. Kinzer attends Clemson University and is majoring in Landscape Architecture.
This exhibition is curated by Barbara Tiffany, who was mentored by Maury Hurt in the 1980s, with works on loan from area museums as well as private collections.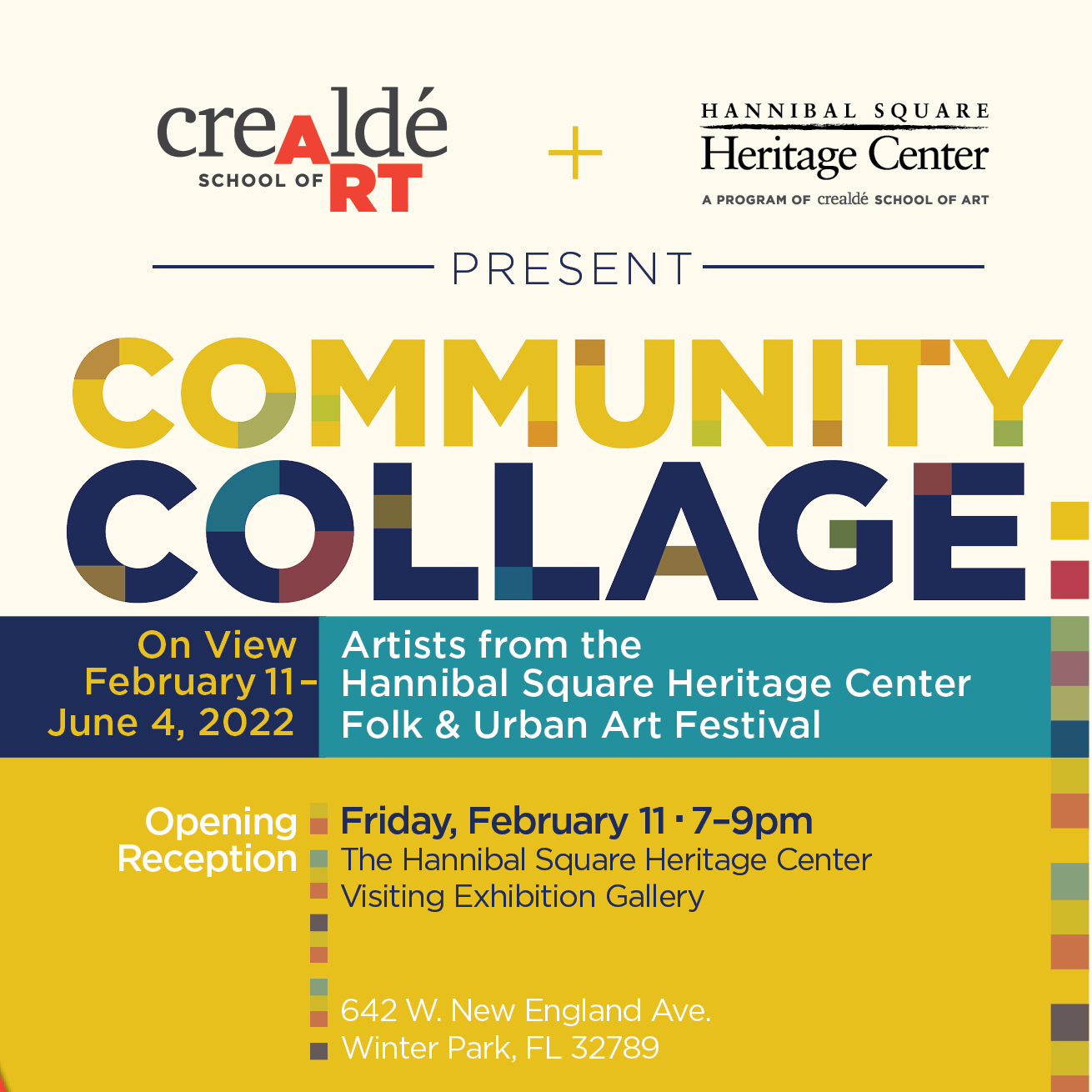 Community Collage: Artists from the Hannibal Square Heritage Center Folk & Urban Art Festival
Feb. 11, 2022 — Jun. 4, 2022
Location: Hannibal Square Heritage Center Gallery
Opening Reception: Friday, February 11, 7 – 9 pm
Hannibal Square Heritage Center Visiting Exhibition Gallery
This long-awaited exhibition is a celebration of over a decade of Hannibal Square Heritage Center Folk & Urban Art Festivals.
Community Collage dives deeper into the creative genius behind the dynamic works by more than 20 artists who have exhibited at the Hannibal Square Heritage Center Folk & Urban Art Festival over its 12-year history. These culturally and ethnically diverse artists—many of whom are self-taught—will share their paintings, jewelry, quilts and sculptural works, along with their inspiration and artistic journeys in text panels and video.
Community Collage is also on exhibit at the Orlando International Airport Main Terminal.
The exhibition is co-curated by festival creator and Heritage Center Manager Barbara Chandler—who cultivated relationships with each of the artists as the festival organizer—and by celebrated Orlando-based Haitian American artist and educator Patrick Noze.
Folk & Urban Art Festival Origins
The Folk & Urban Art Festival has served as a platform for hundreds of emerging and established visual and performance Artists. The festival originated to empower Artists of all genres, and expose them to a unique market of community members and influencers.
Over the years, the Folk & Urban Art Festival has featured notable Artists such as Folk Artist Missionary Mary Proctor; Florida Original Highwaymen; O.L. Samuels; Nicolas Toth; Jack Beverland; Marilia "Lilly" Carrasquillo; Henry K. Ohumukini Jr.; Jack "Mr. B" Beverland; and Ginger LaVoie.
Hannibal Square Heritage Center Folk Art Festival was birthed out of "Just Above the Water: Florida Folk Art" written by Kristin G. Congdon and Tina Bucuvalas, which highlighted Florida Folk Artists and their artistic contributions to Florida's history. In an impromptu visit from German Lemus, of the Orlando-based collective The B-Side Artists, we discussed having emerging artists become a part of the The Hannibal Square Heritage "Folk" Art Festival. Lemus' response was " we are "Urban Artists."
As a result of this observation, the festival was then renamed in its 5th year to the Hannibal Square Heritage Center Folk & Urban Art Festival.
In 2020, The 11th Folk & Urban Art Festival took on different shape; despite the global pandemic we quickly pivoted to produce a live virtual show that would maintain a connection between artists and community as source of inspiration and optimism as we were all quarantined in our homes.
Over 300 community members tuned in as we highlighted and interviewed artists both locally and out of state. Artists took us on virtual tours of their studios. Featured artists included Gregory Best; Renato Sago; Iyaba Mandigo; Patrick Noze; Joyce Hayes; Julio Sanchez; Chris Cruz; Belinda Glennon; Weldon Ryan; and McKenzie Wiese. Performance artists included Jeanine Ponder; and Storytelling by Gennia Holder, to name a few.
About the Curators
Barbara Chandler
Born in St. Thomas, Virgin Islands, Barbara is a long-time Central Florida transplant, a mother of 3 sons, and proud grandmother of 4. As the general manager, Barbara has invested 10 years cultivating and promoting the cultural arts and education of The Hannibal Square Heritage Center in Winter Park–which pays tribute to the past, present, and future contributions of Winter Park's historic African-American community. She is a highly esteemed leader with a long-standing and robust presence in downtown Winter Park and within the Central Florida not-for-profit and arts community.
"As coordinator, producer and host for the annual Hannibal Square Heritage Center Folk & Urban Art Festival, for over a decade, I have benefited greatly working closely with so many different Artists. The Folk & Urban Art Festival is recognized as a local art festival with a global feel.
As the Co-Curator of Community Collage it is fitting that we showcase Artists from the Folk & Urban Art Festival–having their artwork featured in the upstairs gallery of the Heritage Center will be a constant reminder of artists who have been on this journey with us, furthering our mission that Art Is For Everyone!
I am thrilled to work with Patrick Noze, Haitian Artist Painter, Sculptor and Portrait Artist; Noze's international experience will amplify the exhibition focus."
– Barbara Chandler, Community Collage Co-Curator, Folk & Urban Art Festival Producer and Manager of Hannibal Square Heritage Center
Patrick Noze
Born in Haiti on December 11,1962 in the province of Jeremie 'City of Poets', Patrick Noze was introduced to the world of art years before achieving International success, by way of his father, Robert Noze. Robert had his own art history as a renowned sculptor. He studied under his father, Andre Dimanche, making Patrick Noze a third-generation sculptor and painter.
Patrick Noze specializes in subjects ranging from realism, surrealism, impressionism, abstract, sculpture and portraits. "I am always thinking about the wonders of the world, from its simplest to its most complex shapes. To my eyes, the world is a large canvas. Everything I see, dream  or I encounter I use as an inspiration for my work."
Presently he is very involved in the community and serves on a voluntary basis on the Advisory Council for Art in Cultural Affairs in Orange County, Florida.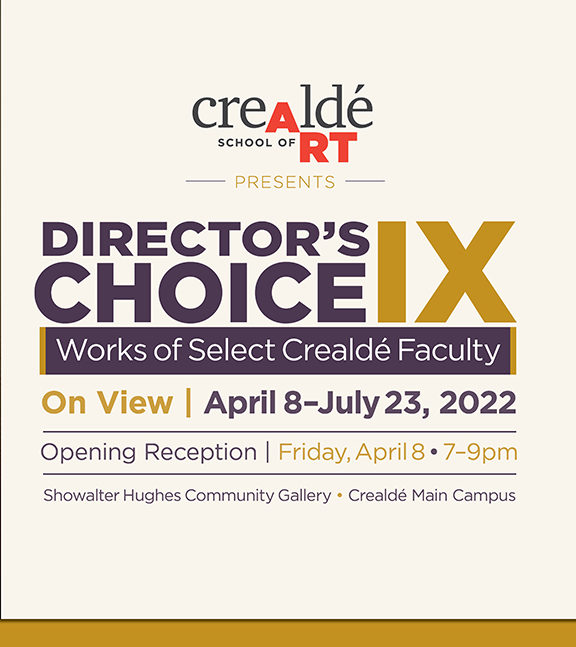 Director's Choice IX: Works of Select Crealdé Faculty
Apr. 8, 2022 — Jul. 23, 2022
Location: Showalter Hughes Community Gallery
This exhibition features the recent work of artists from Crealdé's diverse faculty, including artists long associated with the school as well as new additions. Media include painting, drawing, photography, ceramics, sculpture, and jewelry. For more than four decades, Crealdé's faculty of more than 50 working artists has represented some of Central Florida's most influential arts educators and accomplished visual artists. Curated by Ceramics Program and Studio Manager Vincent Sansone.