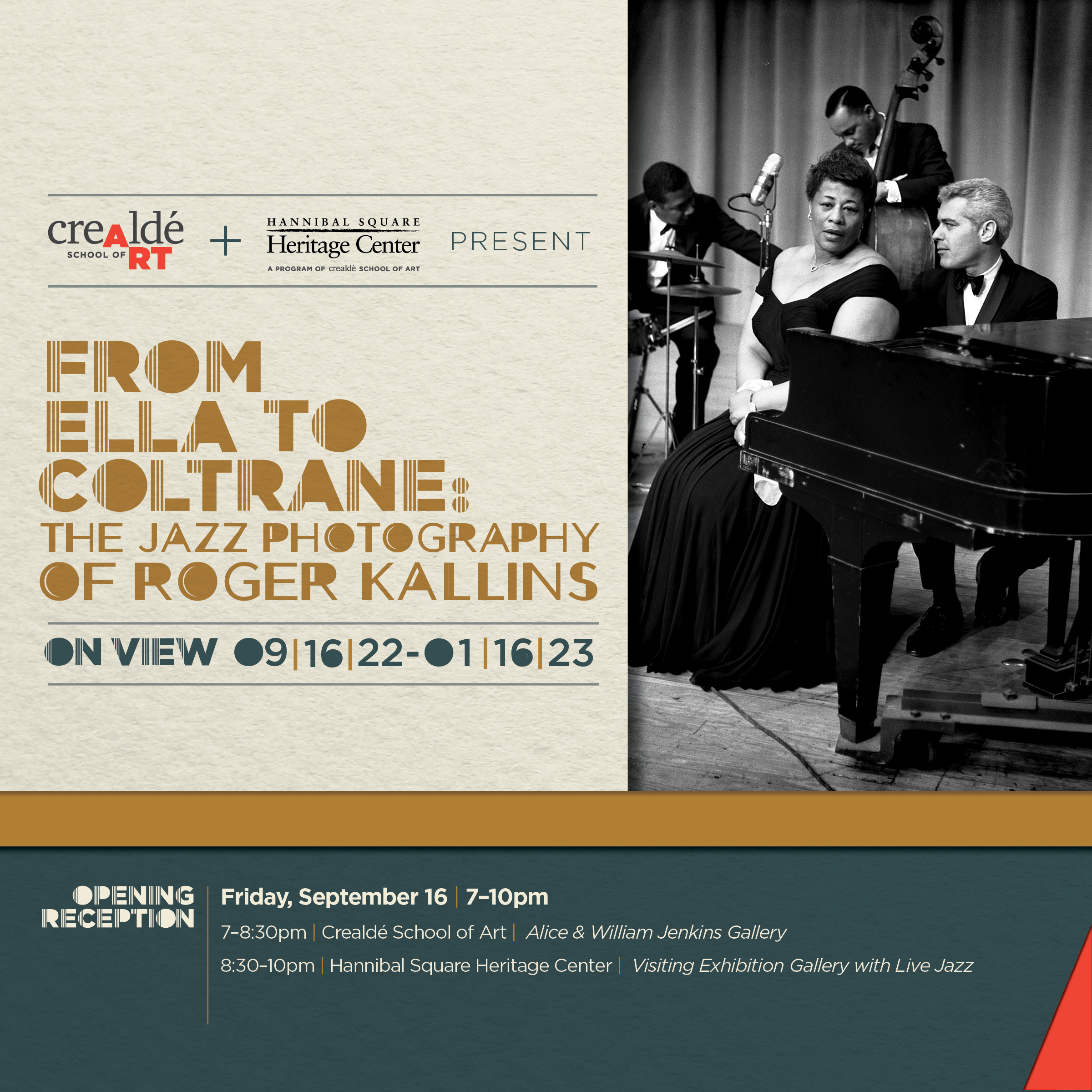 From Ella to Coltrane: The Jazz Photography of Roger Kallins
Sep. 16, 2022 — Jan. 16, 2023
Location: Alice and William Jenkins Gallery
On View:
September 16, 2022—January 16, 2023
Main Campus Alice & William Jenkins Gallery and Hannibal Square Heritage Center Visiting Exhibition Gallery
Opening Reception: Friday, September 16 | 7–10pm
7–8:30pm | Crealdé School of Art | Alice & William Jenkins Gallery
8:30–10pm | Hannibal Square Heritage Center | Visiting Exhibition Gallery with Live Jazz by The Eddie Marshall Trio
We are proud to partner with The Blue Bamboo Center for the Arts, who will present a free live jazz performance by the Eddie Marshall Trio at the Hannibal Square Heritage Center during the opening reception.
---
Roger Kallins was an extraordinary man of many talents and, through his photography, he artfully captured the emotion that jazz musicians bring to their work. This exhibition commemorates Kallins' passion for both jazz and photography, highlighting some of his best images taken over a period of 50 years, from Ray Charles in Miami in 1958 to Sandip Burman at Daytona State College in 2007. The images on display are originals, scanned from 35mm black-and-white negatives and printed on archival watercolor paper by Kallins himself.
His entire body of work is owned by Kallins' friend and admirer, Anthony Ehrlich. 45 images are generously on loan for this two-venue exhibition, with informative biographies written by Dr. Gary Sutton, with research support provided by Juliana Romnes, Gallery Coordinator at Arts on Douglas, a division of Atlantic Center for the Arts, New Smyrna Beach. After initial two exhibitions in the Daytona Beach area several years ago, this will be the first showing of Kallins' work to the Orlando public. Co-curated by Juliana Romnes, Peter Schreyer and Anthony Ehrlich.
About the Exhibition
"Musick is the thing of the world that I love most," wrote Samuel Pepys in his diary in 1666 and Pepys was a man who loved many things. Music in the seventeenth century was far removed from contemporary music, but the quote serves to demonstrate the basic connection between humanity and music.
In writing of great music in 1903, the American scholar and author Paul Elmer More expressed this relationship in a different, deeper way: "He who has been initiated into the truth knows that to every ripple of melody, to every billow of harmony, there answers within him, out of the Sea of Death and Birth, some eddying immeasurable of ancient pleasure and pain."
Pleasure and pain were in the soil where jazz originated, its roots in the music of ordinary American people. It derives in part from the black songs sung in the fields of slavery, Louisiana Creole dance tunes, spirituals of both black and white folk, minstrel music, and folk blues. This heritage explains why its appeal is so primitive and so immediate, both to the people who make the music and to those who listen to it.
The images in this exhibit show the emotion that jazz musicians bring to their work. They spring from the conjunction of Roger Kallins' own passions, for jazz and for photography. Kallins' brilliant use of stage and ambient lighting infuse excitement and drama to his images. The intense expressions on the faces of the musicians force the viewer to take second looks; the hands on the instruments evoke the music itself.
The photographs displayed here were printed by Kallins himself. Most of the work was scanned from old 35-mm black and white negatives. The films were shot with Leica 3f and Praktina cameras and a variety of lenses. The images were printed on Epson Radiant White archival watercolor paper using archival pigment inks.
---
We recognize the accomplishment of Patricia Darlington, who preserved Roger's photographs after his death.
For the knowledgeable write-ups on the musicians, we are indebted to long-time jazz afficiando Gary Sutton.
For the use of these photographs, we wish to thank Anthony Ehrlich.
Above: Roger Kallins, Legendary Jazz singer Ella Fitzgerald and her favorite jazz pianist, Lou Levy, during intermission at a concert in Miami, 1960
Photograph by Roger Kallins. Courtesy of Anthony Ehrlich.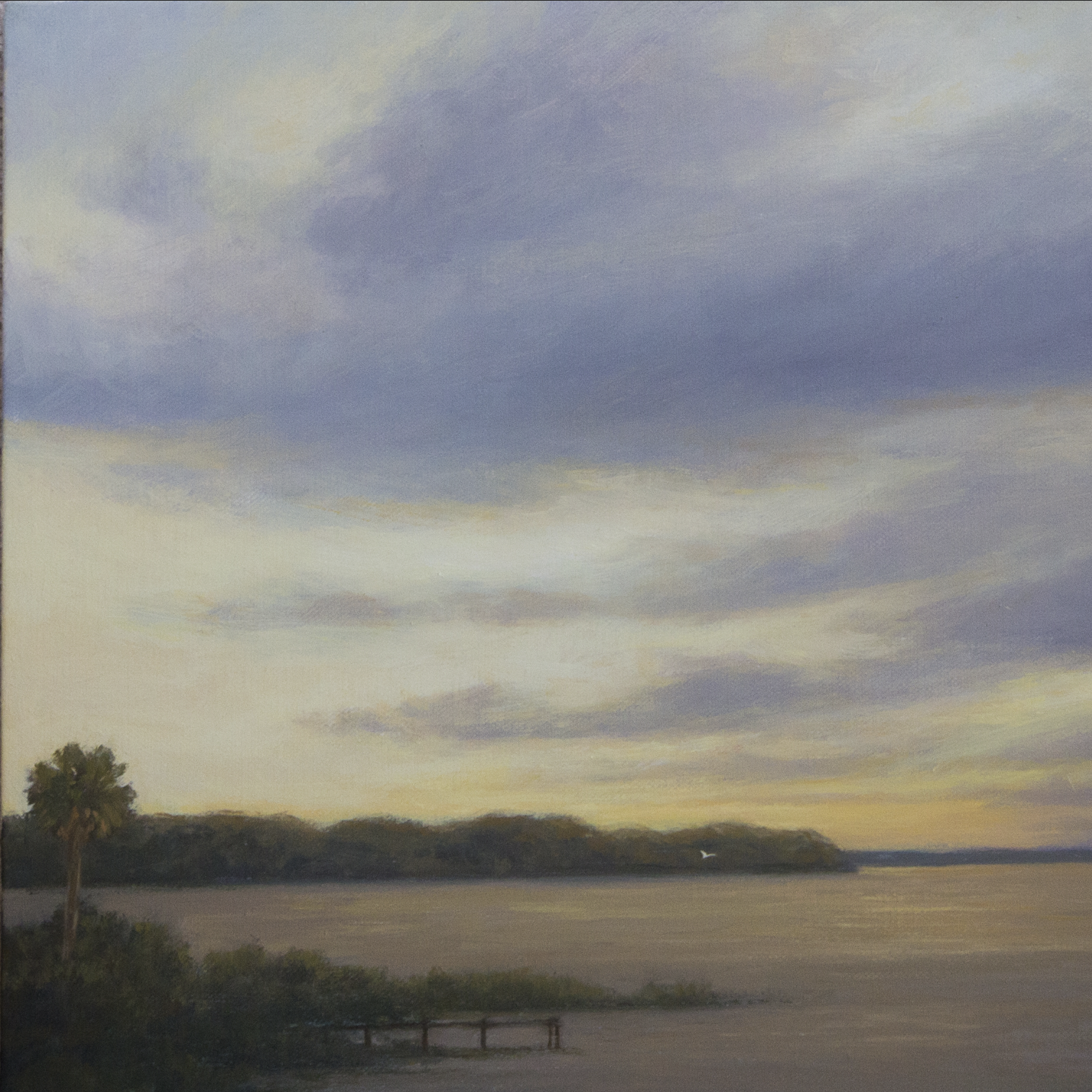 The Lake: A Documentary Exploring the Land and People of Lake Apopka
Sep. 8, 2022 — Oct. 31, 2022
Location: Traveling
On View: September 8, 2022 – October 31, 2022
Special Reception and Gallery Walk: Thursday, October 13, 5-7 pm
Winter Garden City Hall | Arts in Public Places Gallery | 300 W Plant St, Winter Garden, FL 34787
On September 15, 2017, Crealdé School of Art, in collaboration with the Winter Garden Heritage Foundation, unveiled The Lake: A Documentary Exploring the Land and People of Lake Apopka. The exhibition is a culmination of work by documentary photographers and plein air painters who sought to capture the culture and landscape of Lake Apopka. 50 fine art pieces were originally exhibited with accompanying historic text, connecting the area's past with its future. A collection of local and nationally known artists, led by Crealdé Senior Faculty Artist Tom Sadler, produced 10 plein air paintings, and a master class of photographers, led by senior faculty members Peter Schreyer and Sherri Bunye, created 40 archival black-and-white photographs with oral histories. Highlights from the Crealdé traveling exhibition will be on exhibit at Winter Garden City Hall from September 8 to October 31, 2022.
A special reception and Gallery Walk with Project Director Peter Schreyer will be held on Thursday, October 13 from 5–7pm. The Gallery Walk will be at 5:30pm.
Image: Peter Petegrew, Shining Light on Lake Apopka, Oil on Canvas, 20×24 in.