Barbara Tiffany
Curator of Exhibitions
Email
An artist her entire life, Barbara Tiffany joined the Crealdé faculty in 2012 and serves in multiple capacities. She manages the Painting & Drawing program, teaches adult classes and workshops, and serves as curator for the school's gallery exhibitions. After a long commercial art career, she devoted herself to her painting in 1982. Her studies in classical painting were strongly influenced by her mentor, the late Maury Hurt, at the former Maitland Art Center, where she was an instructor and maintained a studio for many years.
Tiffany's paintings explore a wide range of subjects. Her goal is to convey to the viewer a sense of participating wonder, leading to unexpected observations, either through extreme realism or abstraction. She is always looking for new inspiration with any subject.
Raised in Central Florida, Tiffany says she always loved art and nature, and knew from a very early age that art would be a big part of her future. She started her career as a commercial artist, but says she always found time to draw. In 1980, she entered her work into art festivals, exhibitions and competitions throughout the state and on a national level, winning awards along the way. Tiffany's early works were exclusively graphite and colored pencil.
In 1986, private lessons with legendary Central Florida painter Maury Hurt taught her the classical approach to painting, while introducing the effects of light. The mentorship dramatically changed her work and influenced her own approach, when she started teaching in 1984. A popular instructor and a mentor, she is sought-after for her compassion and sensitivity.
Tiffany's work is included in many public collections including the University of Central Florida, Orlando City Hall, the Maitland Art Center, Radford University Art Museum (Virginia), Texas A&M University, as well as private collections. She continues to gather awards at juried competitions, and her work is solicited for state, national and international collections and exhibitions. She is a recipient of a United Arts of Central Florida Individual Artist Recognition Award.
Artist's Statement
"With awe and wonder, I am inspired by many things, complex or simple, as long as there is light. With hope, my work will be a means by which the observer will become a participant."
Personal Website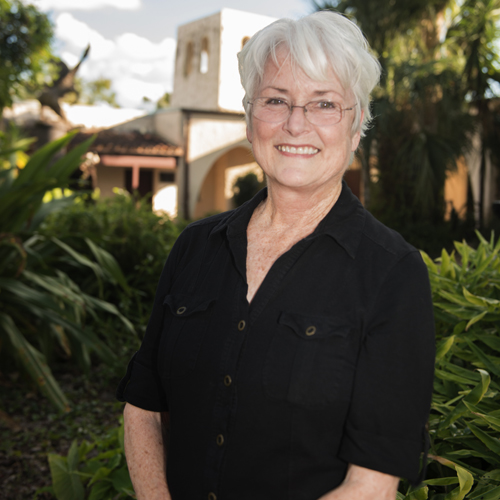 Selected Awards
2015, Second Place, Annual Exhibition, CityArts Factory, Orlando, Florida
2013, Third Place, Annual Exhibition, CityArts Factory, Orlando, Florida
2012, Jury's Top Fifty, Salon International, International Museum of Contemporary Masters of Fine Art, Greenhouse Gallery of Fine Art, San Antonio, Texas
2009, Best in Show, Faces 2009, juried exhibition, Henegar Center for the Arts, Melbourne, Florida
2006, Purchase Award, Maitland Art Center, Maitland, Florida
1999, Individual Artist Recognition Award, United Arts of Central Florida, Orlando, Florida
1997, Second Place, Ridge Art Association, Winter Haven, Florida
1996, Third Place, Wiregrass Biennial, Wiregrass Museum of Art, Dothan, Alabama
1991, Mary Hulitar Award, 53rd Annual National Exhibition of Contemporary American Paintings, Society of The Four Arts, Palm Beach, Florida
Selected Exhibitions
2016, The Encounter Series: Barbara Tiffany and Leslie W. Hardy, two-person exhibition, Orlando Museum of Art, Orlando Florida
2015, Botanicals & Landscapes by Barbara Tiffany & Larry Moore, Garden House Gallery, Harry P. Leu Gardens, Orlando, Florida
2014, solo exhibition, The Carousel Emporium, Orlando, Florida
2013, 2012, 2012, group exhibition, Salon International Competition, Greenhouse Gallery of Fine Art, San Antonio, Texas
2012, 2008, 2004, solo exhibition, Arts on Douglas, New Smyrna Beach, Florida
2012, solo exhibition, Lake Eustis Museum of Art, Eustis, Florida
2011, group exhibition, The Mennello Museum of American Art, Orlando, Florida
2011, group exhibition, Florida Museum of Women Artists, DeLand, Florida
2007, group exhibition, Albin Polasek Museum & Sculpture Gardens, Winter Park, Florida
2004, group exhibition, Daytona Beach Art League, Daytona Beach, Florida
2002, group exhibition, Orlando Shakespeare Festival Theatre, Orlando, Florida
2004, 2003, 2002, 2001, group exhibition, Epcot Flower and Garden Festival, Orlando Florida
Permanent Collections
Church Street Station, Orlando, Florida
University of Central Florida, Orlando, Florida
Seminole Community College, Lake Mary, Florida
Orlando City Hall, Orlando, Florida
Wall Street Marketing Inc., Orlando, Florida
McCree Architects, Orlando, Florida
Roger Holler Family, Winter Park, Florida
Maitland Art Center, Maitland, Florida
Gannett Publishing
The Medalist Club, Greg Norman, Hobe Sound, Florida
Radford University Art Museum, Radford, Virginia
Texas A&M University, College Station, Texas