Catherine Hempel
Senior Faculty | Painting & Drawing
Email
An experienced artist and art educator, Catherine Hempel creates representational paintings in oils either en plein air or in the studio in a traditional manner, utilizing different techniques such as grisaille underpaintings, complementary underpaintings, or a combination of direct painting and glazing techniques.
Hempel earned her degree in Fine/Studio Arts from the University of Central Florida in 1985. She was invited to join the Fellowship Program at Crealdé School of Art in 2000 and managed the Paint & Drawing Fellowship team until she joined the faculty in 2009. She teaches classes for Crealdé at the Jessie Brock Community Center in Winter Garden, where she is a resident.
Boosted by a 2007 United Artists of Central Florida Professional Development Grant, Hempel actively participates in plein air events and festivals throughout Central Florida, winning multiple awards. She is a member of The Florida Painters, the Winter Garden Art Association and Oil Painters of America.
Artist's Statement
"I cannot remember a time when I did not draw or paint, and would be lost without the creative outlet. I find a lot of pleasure in slowing down and paying attention to the things we're mostly too busy to see at today's hectic pace.  As an art educator, I believe that we are essentially students our entire lives — and that if we put time and patience into our work and enough miles of canvas behind us, we can all achieve some level of skill.

Having lived in Central Florida most of my life, I want to inspire my audience to see, value and conserve the places around us before they are lost to us. I am happiest when plein air painting. I enjoy spending the time outdoors soaking in nature and the challenge to get it all down before the light changes."
Personal Website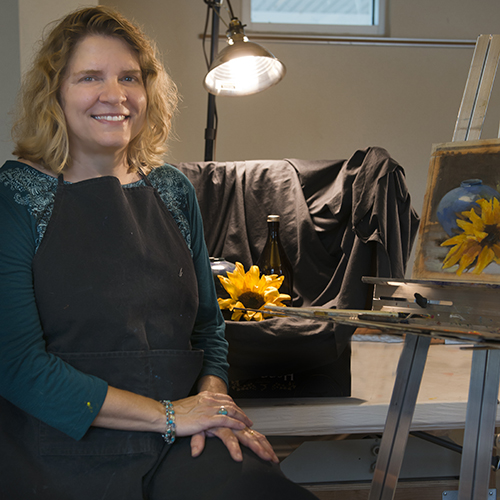 Selected Awards
2016, Poster Artist, Pine Castle Pioneer Days Festival, Orlando, Florida
2015, First Place, Quick Draw, Wekiva Paint Out, Seminole County, Florida
2013, Emerging Artist, Festival of the Masters, Downtown Disney, Walt Disney World, Orlando, Florida
2013, Second Place, Quick Draw, Wekiva Paint Out, Seminole County, Florida
2012, Second Place, Quick Draw, Mount Dora Center for the Arts Paint Out, Mount Dora, Florida
2007, United Artists of Central Florida Professional Development Grant, Orlando, Florida
Selected Exhibitions
2017, New Smyrna Beach Paint Out, New Smyrna Beach, Florida
2017, Maitland Rotary Art Festival, Maitland, Florida
2014, Director's Choice, group exhibition, Crealdé School of Art, Winter Park, Florida
2013, Orlando Magazine's Paint the Town, group exhibition, Gallery at Avalon Island, Orlando, Florida
2013, Art in Public Places, group exhibition Winter Garden City Hall, Winter Garden, Florida
2013, Eclectic Knights, group exhibition, Third Thursday, Orlando Museum of Art, Orlando, Florida
2013, Winter Garden Art Festival, Winter Garden, Florida